On August 20, 2018, the biannual Federal Bullying Prevention Summit took place in Rockville, MD. This year's theme was cyberbullying and was hosted by the Federal Partners in Bullying Prevention, joined by former First Lady Melania Trump.
Senior officials from the U.S. Departments of Education, Health and Human Services, and Justice, and the White House Initiative on Asian Americans and Pacific Islanders welcomed the participants. Former First Lady Melania Trump talked about online safety and highlighted her BE BEST initiative that encourages teaching children the importance of social, emotional, and physical health, with a focus on social media use, wellbeing, and opioid abuse.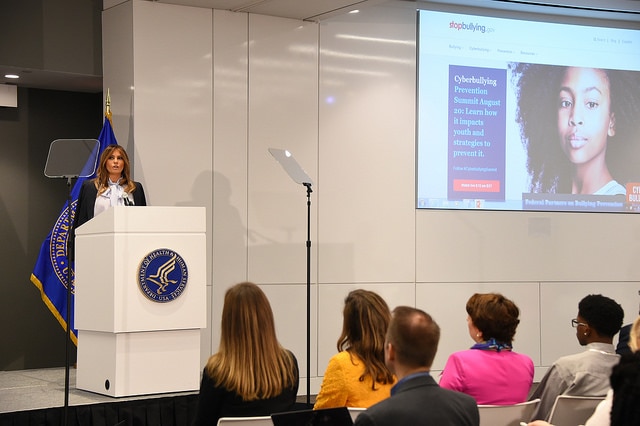 Joseph Grunwald, a college student, shared  his experience about being bullied in high school, the lessons that he learned and his subsequent activism. He said that bystanders should be engaged in order to reduce bullying, and that online networks can help reach bullying victims, who are geographically and socially isolated.  Kristopher Thomas of Youth Move talked about how being cyberbullied made it hard for him to stay in school. He suggested that schools support social-emotional learning to help students develop healthy peer relationships. Kristopher also said it is important for schools to value inclusion and role model diversity.
Several panel discussions were held at the Summit. Social media executives from Twitter, Facebook, and Google participated in a panel discussion with the Family Online Safety Institute. They presented on their social media platforms and company's policies to address cyberbullying. Researchers shared insights on the findings from different studies on cyberbullying and other forms of violence. Law enforcement personnel discussed ways to prevent and intervene in cyberbullying. They also shared examples of how schools and law enforcement can work together to prevent and address it.
As part of the closing for the Summit, educators and bullying prevention experts held a panel discussion on the impact of cyberbullying on schools. They emphasized the importance of understanding that cyberbullying is not a stand-alone event, that it usually involves in-person bullying, and that one size does not fit all in its prevention. Furthermore, they encouraged schools to have frank discussions about the challenges they face in preventing and addressing cyberbullying.
Key insights provided on how to address cyberbullying within school environments included:
• Learning about the latest cyberbullying trends and how they have changed over time.
• Exploring different evidence-based strategies for addressing cyberbullying to determine which ones will work best for their school community.
• Planning to monitor their progress to address and prevent cyberbullying.
Visit StopBullying.gov to learn more about what cyberbullying is, tactics for prevention, risks in online gaming, and how to report misuse and bullying.