Image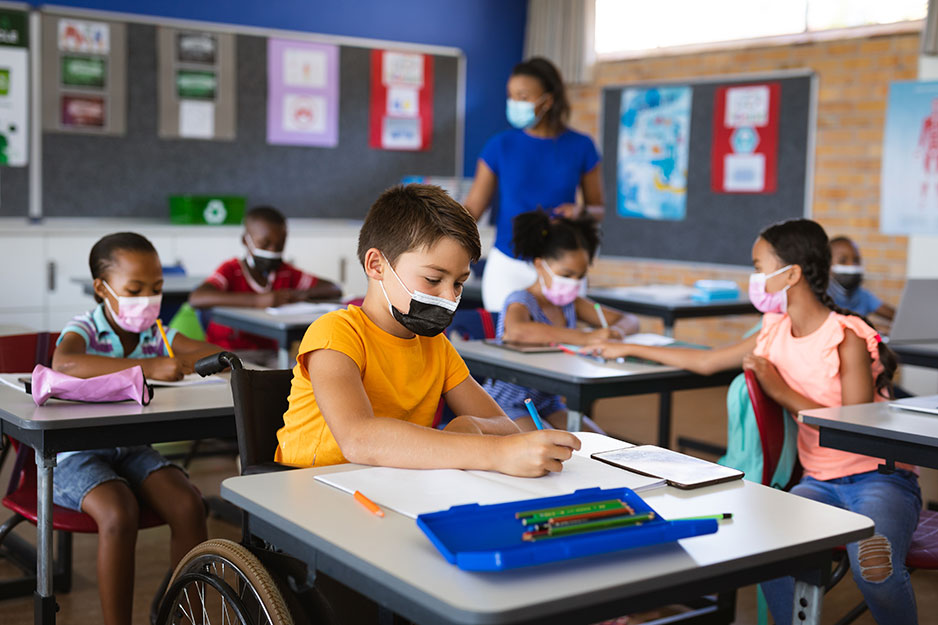 The new school year is here. For many students, the return to school is an exciting time to engage in new learning opportunities.
At the same time, the pandemic continues to present challenges to schools, educators, and students as they seek to prevent COVID-19 exposures and infections consistent with public health recommendations and the sentiments of their communities. To address these challenges, many schools have policies to promote positive learning environments and to prevent COVID-19 exposure and infections.
One policy that can be addressed is whether to require the use of facemasks as way to prevent the spread of COVID-19. In this new school year, we will see schools and districts approach masking differently from one another. If a school does not require universal masking and a student decides to wear a mask, it is important that schools ensure that the learning environment is welcoming and students do not experience bullying, harassment, or exclusion from school activities because of their decision.
Educators and parents who model respect for others' masking decisions can help create the supportive environment we all seek for our students.
People can feel passionate about their decision to use or not use masks. It is important to remember that part of supporting students is understanding their needs. With respect to masking, some students may need to wear a mask in school because of their disability, while others may choose to do so because they live with others who are at increased risk of injury if infected. Other students may not be able to wear a mask or cannot safely wear a mask because of their disability. To build a foundation of respect in our school communities, consider using what we do and do not know about these questions:
How common is bullying related to masking or not masking?
There are no national data yet on the prevalence of bullying related to masking or not masking. However, bullying in general is common, and you may have experienced tensions in your own schools related to mask wearing that cause you concern. By treating others with kindness and respect, you can model the behaviors you expect from others. Just like other forms of bullying, there is no place for bullying others about their masking decisions.
What are the best ways to reduce bullying related to masking or not masking?
Though there are no proven practices yet—the COVID-19 pandemic is still too new to have reliable and sufficient data on this specific aspect of bullying—we do know that building a safe and supportive school climate and training school staff and students can prevent and address all forms of bullying.
More resources for parents and adults, educators, teens and kids are on Stopbullying.gov.
Is there a federal policy about mask wearing in schools?
No, there is no federal law specific to the use of masks in schools. School policies are usually locally- and/or state-determined. However, federal civil rights laws require schools to consider the health and safety needs of their students with disabilities so they can attend school in-person. A school may determine it is necessary for other individuals in school settings to wear masks, depending on the specific circumstances of the student with a disability and in consideration of relevant health guidance.  Federal agencies such as the Centers for Disease Control and Prevention and the U.S. Department of Education have provided federal resources to guide local policy to support safe, in person learning while reducing the spread of COVID-19, including when a school should require masking.
How can I support safe, in-person learning?
These federal resources can help you understand how to create safe learning environments for everyone:
National Center on Safe and Supportive Learning Environments (funded by the U.S. Department of Education), Brief on Students Bullied Over Mask-Wearing: What Schools Need to Know to Prevent and Address the Problem
This document provides educators and parents an overview of the problem of bullying over mask-wearing, as well as strategies for schools to prevent and intervene in bullying. It recommends schools take a vocal stance that mask bullying will not be tolerated and clearly and frequently communicating anti-bullying policies. It notes that while schools may not have specific anti-bullying policies related to mask-wearing, language specific to mask-wearing can be interwoven into existing anti-bullying programming. Prevention strategies such as fostering an overall healthy school climate, communicating anti-bullying policies, modeling good behavior, learning the warning signs of bullying, and staying informed about local anti-bullying laws are included in this resource. Intervention strategies such as encouraging students to speak to a trusted adult and to be upstanders as well as reminders for educators to investigate all instances of bullying are also included in this resource.
U.S. Department of Education, Letter to Educators and Parents Regarding New CDC Recommendations and Their Impact on Children with Disabilities
This document helps educators, staff and families thoughtfully design learning experiences for all students, including students with disabilities. In it, you can find links to information about masks and school's obligation under federal disability rights and special education laws to make reasonable modifications for particular students with disabilities.
U.S. Department of Education, Office for Civil Rights, Dear Colleague Letter:  Responding to Bullying of Students with Disabilities
This document describes a school's obligation to address bullying and harassment with protections for students with disabilities. The Department has also published a parent fact sheet which explains schools' responsibilities to address bullying of students with disabilities and provides additional resources.
U.S. Centers for Disease Control, Operational Guidance for K-12 Schools and Early Care and Education (ECE) Programs to Support Safe In-Person Learning
The CDC provides this guidance that supplements but is not meant to replace any federal, state, tribal, local, or territorial health and safety laws, rules and regulations with which schools and Early Care and Education (ECE) programs must comply. In this guidance, you can find facts and information about reducing transmission, masking, and recommendations for action at various levels of community transmission (e.g. high, medium, low levels).